Biography
KAPIL DEV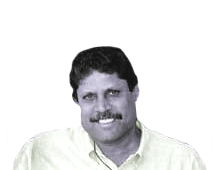 It was a Saturday. As if to add to the grief of Indian Cricket Team the sky was full of clouds. The scene was the world cup final in 1983. West Indies, the Caribbean power could put an end to Indian Innings at a score of 183 runs. The Caribbeans sitting at the gallery had already begun the celebration. But the fate of 'Lords Stadium' was to witness some unexpected miracles. Indian Team led by Kapil Dev played furiously and Caribbean power could do nothing but to surrender helplessly at a score of 140 runs. As Kapil Dev lifted the Prudential cup, even the sand grains at 'Lords' shouted a name, Kapil Dev....

Gates attended public elementary school and the private Lakeside School. There, he discovered his interest in software and began programming computers at the age of 13.World Cup victory in 1983 was a defining moment for cricket in India. As Indian captain, Kapil played an instrumental role in the country's success. Kapil Dev, the ever-remembered master of Indian Cricket, was not just lifting up a world cup trophy, but he was uplifting the proud legacy of India before the world. Kapil is ever remembered for his rich contribution to cricket.


Personal Life
Kapil Dev Ramlal Nikhanj better known as Kapil Dev, was born on 6 January 1959. He was the sixth of seven siblings. Kapil's parents emigrated from a village near Rawalpindi during Partition. Kapil Dev was a student at D.A.V. School and in 1971 joined as a pupil to Desh Prem Azad.
Kapil Dev made his debut for Haryana in November 1975 against their neighbor Punjab and impressed with a debut 6/39 innings haul, restricting Punjab to just 63 Kapil Dev made his debut for Haryana in November 1975 against their neighbor Punjab and impressed with a debut 6/39 innings haul, restricting Punjab to just 63 Kapil made his international cricket debut against Pakistan at Faisalabad in 1978-79 and immediately shouldered the responsibility of spearheading India's pace attack. For a long time, his name was synonymous with pace bowling in India and his feats inspired a generation of youngsters to take up fast bowling.
Kapil was a right-arm pace bowler noted for his graceful action and potent out-swinger, and was India's main strike bowler throughout most of his career. He also developed a fine in-swinging yorker during the 1980s which he used very effectively against tail-enders. As a batsman he was a natural striker of the ball who could hook and drive effectively. A naturally aggressive player, he often helped India in difficult situations by taking the attack to the opposition. His nickname was The Haryana Hurricane as he used to represent the Haryana cricket team, although he is himself a Punjabi.
Achievements
Captained India to World Cup victory in 1983
Broke Richard Hadlee's record of 431 wickets in Test cricket
First ODI century by an Indian
Only cricketer to score 4,000 Test runs and take 400 wickets
Named Indian Cricketer of the Century by Wisden
Test Cricket
In early 1994, he became the highest Test wicket-taker in the world, breaking the record held by Sir Richard Hadlee. Kapil's record was broken by Courtney Walsh in 1999. Kapil is the only player to have achieved the all-rounder's double of 4,000 Test runs and 400 Test wickets.
One Day International
In 1988, Kapil overtook Joel Garner to become the highest wicket-taker in ODI cricket. His final career tally of 253 wickets remained a record until it was broken by Wasim Akram in 1994. According to the ICC cricket ratings for all-rounders in ODI cricket, Kapil's peak rating of 631 is the highest rating ever achieved. He reached this mark on 22 March 1985 after a World Series final against Pakistan in Australia.
Awards
1979-80 - Arjuna Award
1982 - Padma Shri
1983 - Wisden Cricketer of the Year
1991 - Padma Bhushan
2002 - Wisden Indian Cricketer of the Century
Kapil Dev, is regarded as one of the greatest all-rounders to have played cricket. Kapil Dev was named by Wisden as the Indian Cricketer of the Century in 2002 for captaining India to their maiden and only Cricket World Cup in 1983 and holding the record for the most Test match wickets between 1994 and 1999. Kapil Dev had a rather prosaic stint as India's national cricket coach for 10 months between October 1999 and August 2000.